In the heart of Louvain
The ILUVLeuven ticket is back!
In normal and XL version 🙂
The normal ILUVLeuven ticket contains a visit at the city hall and the library of the university with its tower.
the ILUVLeuven XL ticket contains the same activities + a visit at our Museum M.
How does it work?
When you book a room you mention which ticket you would like and for how many persons.
The hotel orders the vouchers, forwards them to you and you can exchange them for a ticket (with date and time lock).
And that is not all! Of course there is a deal: a double room with normal ILUVLeuven ticket is only 128€ for 2 persons, and the ILUVLeuven XL ticket is only 135€ in a double room for 2 persons. Breakfast and taxes are incl.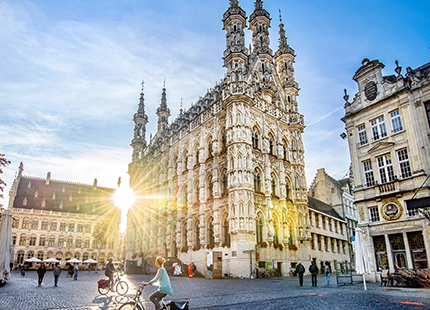 Stay & discover deals
Staying overnight means you can experience a whole lot more. The full package. And that's great because you can't do Leuven in just one day. To make sure your experience is unforgettable, stay in one of these cool places. They've been specially chosen for you, by locals who have the inside track. You can enjoy everything from a free ticket for an unforgettable museum, to an idyllic bike ride in the green outskirts of Leuven.  http://www.leuvenlikealocal.be/hoteldeals
In the charming city Leuven, with all its strong pros, stands the rectory of the Saint Michaels church, which is transformed into a cozy 3 stars hotel. The building is from the 19th century (1830 to be precisely) and has been renovated in the 70's. The original construction structure has been kept which gives a rustic appearance. At a walking distance from all the sights, faculties and the historical center, it is lovely to abide in guesthouse De Pastorij with its garden in a quiet environment. If you want to keep informed about promotions and news in Leuven, check the Facebook and Instagram page on
When you book a room, you will receive a 10% discount voucher for a fun activity, buy beers or rent bikes from Leuven Leisure. 1 Voucher per booking, as long as stock lasts!
In hotel De Pastorij you can order take-away breakfast (please at least a day in advance) via the contact button, by phone or mail. In better times you can have your breakfast in the renewed diningroom or in the garden.
In hotel De Pastorij you are also welcome for a short-stay, quarantaine, covid isolation.
Every service, room, is completely corona-proof and the measures are striktly followed.
You may always contact me by phone on (0032) (0)16/82 21 09 or per mail at depastorij@yahoo.com, for reservation room or take-away breakfast. In better times you can enjoy your breakfast in the breakfast room or in the garden.
COVID 19 update: to visit Belgium, please download https://www.info-coronavirus.be/en/.
Take care